Packages
Domaine Lac St-Mathieu is registered with the FCMQ (Fédération des Clubs de Motoneigistes du Québec) as a service centre.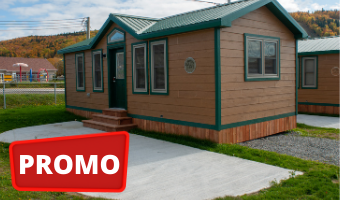 PROMO – $100 OFF RESERVATIONS STARTING SEPTEMBER 6
Vacations are not over yet! Explore the Bas-Saint-Laurent region and stay at Domaine Lac St-Mathieu to enjoy the last beautiful days of summer! Save $100 when you rent one of our beautiful Prestige cottages or Deluxe cabins, which are only 15 minutes from the parc national du Bic and near Mont-Saint-Mathieu!
Conditions:
A minimum of 2 nights is required for Deluxe cabins (3 nights Thanksgiving)
A minimum of 3 nights is required for Prestige chalets (reservations by phone only 1 800 562-2482)
Promotion in effect for bookings after September 6
Cancellation policy: $ 100 fee for any cancellation 14 days prior to arrival date and cost of one night 13 days or less prior to arrival date.
I'm interested