Packages
Domaine Lac St-Mathieu is registered with the FCMQ (Fédération des Clubs de Motoneigistes du Québec) as a service centre.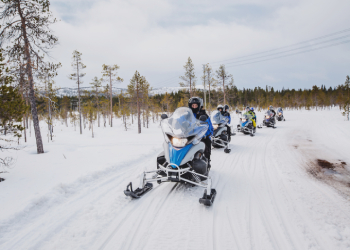 Snowmobile
Explore the trails in the Bas-Saint-Laurent region and those near the Trans-Quebec #5 trail. Enjoy a stay at Domaine Lac St-Mathieu, which is accessible by snowmobile. Extend your trip and follow a different circuit every day!

The package includes
Overnight stay in a Deluxe cabin for 4 people

Dinner

Breakfast basket

Starting at $99/person in double occupancy
Effective from December 18th to March 26th.
Cancellation policy: $ 40 fee for any cancellation more than 48 hours before arrival and the cost of one night less than 48 hours before arrival.
I'm interested